Tuesday, June 22, 2010
This is a three part series, coming to you...as they come to me. Last week I received an envelope stuffed with random things for me to craft with. It was like Christmas morning for me!
Here's the scoop on the stuff;
Mich L. in L.A.
(who is super creative, if you haven't checked her out, put that on your to-do- list) held a giveaway/crafting challenge, a.k.a. the
Crazy Crafty Wicked Cool Envelope of Doom Challenge. I am so happy that I got one! The challenge part? To make three gifts using at least one item from the envelope. With that in mind, here's my first gift:
A necklace and earring set! I apologize for my horrible wire work, clearly I'm no pro at jewelry making. But it's so fun to do! Wondering what the base of those circles are?
Yep, those are the little plastic circle-things that are left on the neck of a plastic bottle when you unscrew the cap. Is there a technical term for them? If there is, I have no idea what it is, so I'll call them 'plastic rings'. Close enough. Here's what I used to make the earrings and necklace:
5 plastic rings (from the Envelope of Doom)

raffia

beads (from the Envelope of Doom)

hot glue

silver wire

jewelry findings

scissors
Start with your plastic ring. Take the raffia and wind it around the entire ring, using a tiny dab of hot glue to hold it in place. Make sure to not cut the excess raffia off.
Separate one strand of the raffia from the others, hold it aside, and cut the other strands off. Now you're left with one thin strand of raffia. Slide a bead onto the strand;

and pull the raffia down to the bottom of the circle.
Wrap the raffia around the bottom and secure in place with a tiny dab of hot glue. Trim the excess raffia off.
There's one circle done! Now do it 4 more times :)
Once you've got your circles all finished, it's time to add the wire. I don't have much of a tutorial for this, basically because I pretty much just improvised with my wire. For my earrings I wrapped some silver wire around the top, made a loop, and twisted wire around it to secure it into place. Then attach it to your ear wires. For the pendant, I did the same thing for the top,
and for the bottom, just making a smaller loop.
To secure the next circle on, I started the top wire the same way except I threaded the wire through the bottom loop of the last circle, like this:
Twist the wire to secure it closed, add on another circle, string it onto a necklace, and you've got recycled jewelry! I bet no one will be able to guess it started out as a plastic ring from a soda bottle!
I'm also supposed to tell a little about giving the gift.... but I haven't given it yet. I'm not even quite sure who I'm giving it to... most likely to a friend for her birthday.
I've got two more projects coming from this envelope, so stay tuned!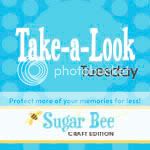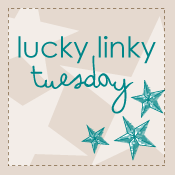 About Me
StepThruCrazy

My name is Sarah. I am a wife; the mother of three beautiful and crazy girls; a person of many interests, many that I am just finding out; and just generally me in every way.
View my complete profile

Blog Archive