Friday, June 25, 2010
Now that I've really started to dive into this envelope, I realized that I have a
lot
more than three projects goin' on... so, yay! Alrighty, here's what I'm working with today:
These green felt-thingys. I've got some ideas for the animals and whatnot, but today I just used the half circles:
I grabbed a needle and some bright pink thread, and gave each piece a blanket stitch border.
futuregirl
has a
great
tutorial if you need one... that's where I learned.
You can see in the picture above that I was going for a flowery look... but the green really made it look like leaves to me, so that's what they became. I put them into two groups of three and stitched them together. Hot glue would have been much faster, now that I look back on that....
Now I just needed the flower parts. For the first, I hopped on the zipper flower bandwagon, and grabbed a white zipper and separated the two sides.
You can tell I craft on my dining room table... the glare from the chandelier is kinda cool looking, though.
I should have looked back on how everyone else makes their zipper flowers, buuuut I didn't. I pretty much rolled and stitched, rolled and stitched, added the other side of zipper, and rolled and stitched...
Until I ended up with this:
It's not too pretty, but it's the bottom, no one will ever see it, so no biggie.
I flipped it over, hot glued it onto a set of leaves... and then added a pink rhinestone to the center. For a little glam.
For the other flower, I took some wire and glass beads and created a flowery shape.
Pretty easy to make, just string the beads, bend the wire, twist, string more beads, bend, twist... you get the idea. I stuck the end of the wire through the felt and twisted it into a flat coil to hold it in place. I also added a dab of hot glue to it, just to be sure.
To make the headbands, I just grabbed some ribbon (any kind will work) and some elastics. Tied two elastics together...
measured the ribbon around my daughter's head and took off about an inch or two, folded the end of ribbon up around the elastics and hot glued it into place.
I used hot glue to add the flowers onto the headbands (off to the side), and that's it!
I made these for my two oldest munchkins... who are asleep right now, or they'd be my little models. Well, maybe I could... no, I'll leave them alone. I'll wait until morning. :)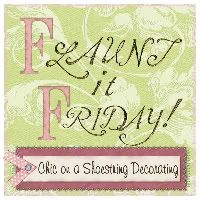 About Me
StepThruCrazy

My name is Sarah. I am a wife; the mother of three beautiful and crazy girls; a person of many interests, many that I am just finding out; and just generally me in every way.
View my complete profile

Blog Archive