Friday, July 2, 2010
It's the second round of the Iron Crafter over at
Fireflies & Jellybeans
! This time around, the secret ingredient was pillowcases and/or sheets. I chose pillowcases, as you have already read above. I wanted to make something useful, that I actually needed, and with three little girls, what I really need is
storage
. Times a million. So I decided to make some hanging bags that they could carry around and stuff with their favorite toys and stuff. Here's what I made:
I love these, they may actually encourage the girls to pick up some of their toys! Hmmm maybe not, but at least I now have more floor space in their rooms. Now for the tutorial... stay with me folks, I am not the best sewing machine user, and definitely don't have technical terms for this!
To make these, I started with two
long
pillowcases, one for each bag. Must be from a king set? Not sure why I had them in my linen closet, but what the hey, I made them useful.
I took one and cut the top off.
Then I took it and folded it in half and cut it, making sure that the top piece was a little longer so that I could sew the bottom shut, and both halves would be the same size. See? I bet there are some good terms to use here to make it less confusing. Good thing there are pictures, that's all I'm sayin'.
After turning the two pieces inside-out, I took the top piece that was pretty much just a tube of fabric, and sewed the bottom shut. I did this next step to each piece. I wanted to create "flat bottoms" on the bags, so I folded the bottom corners so that the seams were together, measured up about two inches, and sewed a seam. Then I cut the excess fabric off of the corner.
(If that confused you, there's some better directions at instructables....
here
.)
Once I did this to both bags, I turned one right-side out, and placed the inside-out bag inside, to make the lining. I wanted to have a big, chunky hem a the top of the bag, so I folded the top over, and then folded again to hide the unfinished edges. I pressed it with my iron and used white thread to sew two lines all the way around the top.
I thought they looked a little plain, so I grabbed my white fabric paint and a foam stamp, and randomly stamped away.
Once it dried, the flowery branch things were a little too pale for me, so I went back and filled them in with a little paint brush. I used a different stamp on the other side, to make it kind of reversible.
Once it was totally dry, I used a thick white ribbon and some metal rings to make the handles. I placed the ring on the middle of a strip of ribbon, folded it over, turned up the edges, pinned it to the inside of the bag, and stitched in place. (Forgot to take a picture at this part, oops...).
Then I made another bag from the other pillowcase, hung up a wooden peg rack that I got a Michael's for $5 (just had to paint it black), and that's it! Easy storage!
I don't know which side I like better....
Perfect for lots of toys!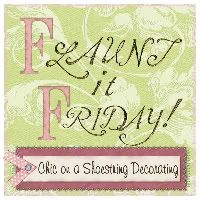 About Me
StepThruCrazy

My name is Sarah. I am a wife; the mother of three beautiful and crazy girls; a person of many interests, many that I am just finding out; and just generally me in every way.
View my complete profile

Blog Archive