Wednesday, July 7, 2010
A few years ago, when the hubby and I lived in Florida (this was pre-kids, so make that 5-ish years...) I bought him a button-up shirt for his work. The deal was that he had to wear blue or white button-ups, so I thought, "Why not both at the same time?" And I got him this:
It used to have a pocket...
Apparently when he wore it to work, his boss told him he looked like a picnic basket, aaand the shirt was retired to the closet. Well, I don't care if I look like a picnic basket, so I decided to turn it into a tank top for myself!
It was actually really easy to do... let me try once again to tell you how I used a sewing machine... eh....
First things first, I chopped the sleeves off.
carefully
...
Looks a lot like a vest at this point...


...and sewed them. Not one of my favorite things to sew, those armholes. Once the arms were taken care of, it was on to the neck. I pinned the neck down- I went down about two buttons, which actually ended up to be a little to far down, so I had to sew it closed again. Anyway, I pinned, sewed, and trimmed...
Then I cut a piece of thick white ribbon, gathered one side/sleeve/armhole-front up kind of like a fan, and wrapped the ribbon around it.
To secure it in place, I attached a button (cut from the excess shirt) with a needle and white thread. Then I did the same thing to the other side.
At this point I tried the shirt on and decided I wanted more of a fitted look to the waist area, so I made some ties for the back. For the tie fabric, I used one of the sleeves I cut off the shirt. I trimmed the cuff off of the sleeve, and cut alongside the seam to open the shirt. Then I cut a rectangle from the longest piece, making sure it was wide enough for two ties. (Sorry, I didn't measure... )
I cut the fabric in half lengthwise (hot dog style!), folded the pieces in half the same way, and stitched the long side and one short side. Then I flipped them right-side out (I used a super long wooden skewer to push the corners out- a smore's stick!).
I found the spot on the shirt where I wanted my ties to be, folded the rough edge under and pinned the ties in place. Then I used my sewing machine to attach them on, doing that pretty x-in-a-box thing (technical term? not sure.)
That's it! Sorry I'm not more descriptive when it comes to my sewing things, hopefully I'll get better at that as time goes on, but I hope you kind of get the general idea of how I made my shirt!
And sorry for the somewhat moody facial expressions, it was super hot and humid out, and after a gazillion pictures, I was getting slightly uncomfortable! I got more pictures that I liked than I first thought, though...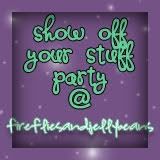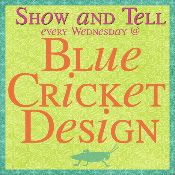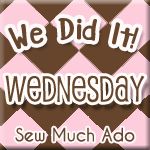 About Me
StepThruCrazy

My name is Sarah. I am a wife; the mother of three beautiful and crazy girls; a person of many interests, many that I am just finding out; and just generally me in every way.
View my complete profile

Blog Archive