Saturday, September 11, 2010
Aaaaand... I'm back. Sorry for the leave of absence...
again
... my oldest just started kindergarten a couple of weeks ago, another in preschool... so it's been a bit of a transition for us. I think I've finally gotten the schedule figured out, so hopefully I'll be back to blogging like my normal old self. So anyway, how's everyone out there been doing this past month-ish? Anything interesting? All right, enough small talk, here's what I've been working on: I saw this shade @ anthropologie, and knew that I could use that technique to revamp an old shade in my living room.
Here's mine:
I started by tracing the shade onto a piece of fabric (something neutral, with little to no pattern, as it will show through when the lamp is turned on). I cut it out, leaving at least an inch around the outline.
Then I traced and cut three different sizes of circles from coordinating fabrics- the more diversity in texture and pattern, the better, I say! I used a coffee mug, a little plastic play cup and a shot glass for my circle dimensions.
To secure the circles to the base fabric, I used spray adhesive and sprayed the backs of the circles, and arranged them how I wanted them. The adhesive was pretty forgiving, so it was easy to move circles if I wanted to.
not
a fun time. With the spray, the sewing was one
million
times easier. Occasionally the circles may lift up a little, so just watch out for that. I've got a few pleated circles on my shade. Oops.
Once that was done, I folded the edges under, trimmed where necessary, and hot glued it to the shade. Now my shade is no longer faded, and now it's color coordinated with my living room! I've got to say, it looks pretty cool when the lamp is on. But the best part of this project? Completely FREE! I had everything I needed on hand, which was
awesome
!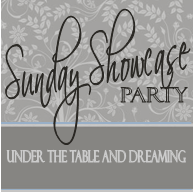 About Me
StepThruCrazy

My name is Sarah. I am a wife; the mother of three beautiful and crazy girls; a person of many interests, many that I am just finding out; and just generally me in every way.
View my complete profile

Blog Archive