Tuesday, August 10, 2010
I sort of took a mini, unscheduled vaca from blogging. I didn't mean to, but sometimes these things happen. I don't have a great story to go along with it (I know, I'm boring), but I am back in the swing of things and have got some stuff going on!
So I recently was given a whole bunch of stuff from my mother-in-law. A TON of purses, a bunch of these vintage tri-chem liquid embroidery book things, and some old crafting books... from the early 80's, I believe. While I was flipping through, I found the directions on how to make a greek braid, and going with that idea, I came up with this necklace made from string and a scrap t-shirt:
And I got a hair cut! Yay!
To make this necklace, here's what you need:
5 strands of string, 10" long
5 strands of string, 14" long
5 strands of string, 18" long
2 strips of tee fabric, about 2" x 20"
coordinating thread
beads for embellishment (optional)
scrap fabric for embellishment (optional)
So a greek braid is a five-string braid, and it's really not hard to do. Start with your strings that are 10" long. Secure them on one end so that you have your hands free to braid. I like to pin my string to my upholstered dining room chairs, but whatever works for you. :)
Lay all of the strings out like in the picture above. Take one outer string and cross it over to the middle:
Now take the string that is now the outer string, and cross it over so that it's right behind the first string you moved:
Now just repeat these two steps over and over, for each set of strings, and you'll end up with these:
From here you'll take your two 20" pieces of tee and sew them into tubes. Fold the fabric in half, right sides together, and sew from one end to the other.
Leaving one end open, sew the other end shut.
There's the bones of the necklace. From here you can embellish any way you want to- I stitched some clear glass beads on the braids and a couple of twisted coils of the same fabric. Whatever you like!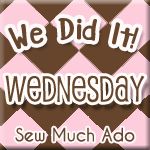 Labels:
necklace
,
sew
,
t-shirt
|
11 crazy awesome comments
About Me
StepThruCrazy

My name is Sarah. I am a wife; the mother of three beautiful and crazy girls; a person of many interests, many that I am just finding out; and just generally me in every way.
View my complete profile

Blog Archive