Tuesday, April 26, 2011
I've been on a Mod Podge kick lately. I LOVE IT. I do apologize if you don't like glitter- I've only got Glitter Mod Podge at the moment, so every tutorial involving Mod Podge is glittery. Including this one. So, what do you get when you mix fabric, Mod Podge, and some snaps? Why, these zig-zag bracelets, of course!
These are easy! The hardest part is waiting for the fabric to dry. Here's what you need to make some:
fabric (tee material works best as it doesn't fray)
Mod Podge
snaps & snap tool
ruler
scissors
paint brush
piece of paper- I used 8 1/2" x 11"
Start by folding up your piece of paper accordion-style. This is to make your pattern. My paper is folded every inch. The folded paper measures 8 1/2" x 1".
Make a dot at 1/2 inch on each side, and then at 1 inch on the other side, and connect the dots like this:
Cut on those two lines, unfold your paper, and you should have an 11" zig-zag.
Wrap the paper around your wrist and cut where you need to so that there is about a 1" overlap for the snap.
On a scrap piece of cardboard, or something else that you don't mind getting Mod Podge on, take your fabric and coat the right side with Mod Podge. Your fabric will look somewhat like this:
Now the hard part: waiting for it to dry.
Fast forward: it's dry!
Flip the fabric over and trace your zig-zag pattern twice for one bracelet, then cut them out.
Now weave them together like this:
Add some snaps (sorry, I didn't take pictures of that part... if you'd like a tutorial on that, let me know!), and it's a bracelet! Make a bunch because they're so easy to make!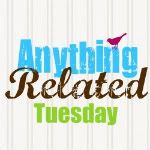 About Me
StepThruCrazy

My name is Sarah. I am a wife; the mother of three beautiful and crazy girls; a person of many interests, many that I am just finding out; and just generally me in every way.
View my complete profile

Blog Archive