Tuesday, May 24, 2011
OK, I'm sure these aren't the most original beads out there (I didn't look around, but I'm sure someone out there has done something on this level...), but they
are
super easy to make and super fun.
Have I mentioned how much I love candy? Well, I do. So it should come as no surprise that I have a ziploc bag full of candy wrappers. Mmm-hmmm. Dum-dum lollipops, Tootsie Pops, Mary Janes... my collection keeps growing.
So these are super simple to make. Here's what you need:
Mod Podge (of course!!!)
candy wrappers of your choice
wooden beads
small paintbrush
wooden skewer/chopstick/straw/etc.
Start by cutting a piece of wrapper that is long enough to wrap around your bead, and has extra at the top and bottom:
Brush some Mod Podge on the wrong side of the wrapper, and wrap it around the bead.
Apply some more Mod Podge to the ends, and use a thin object (I used the opposite end of the paintbrush) to press the ends of the wrapper into the holes of the bead. Make sure to press the ends carefully so that they don't rip. Then once you've got the ends all tucked in, use your fingers and press the wrapper down to smooth out the bumps and wrinkles.
To finish the bead, stick it on the end of a chopstick, or something similar, and give it a coat or two of some more Mod Podge.
Make a bunch, let 'em dry, and you've got some cute little candy beads! I haven't made anything with mine yet... but I'll come up with something!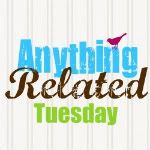 About Me
StepThruCrazy

My name is Sarah. I am a wife; the mother of three beautiful and crazy girls; a person of many interests, many that I am just finding out; and just generally me in every way.
View my complete profile

Blog Archive