Sunday, January 23, 2011
So yesterday I turned the big two-six. Yeah, not a big deal; nothing exciting; I don't feel any older. SO, I decided to take the sleeve of a thrift-store sweater and make a headband. Or a head wrap. Not sure...
Want to make one? Here's what you'll need:
sweater fabric, at least 16" long by 4" high
another piece of fabric, same size
two 10" ties (I used repurposed suede-like ties, but use what you have- ribbon would work well)
a piece of fusible interfacing, same size as the other fabrics
buttons (optional)
a circular object to make the curves
large piece of paper (or two pieces of paper, short ends taped together)
To start, using a pencil, measure and draw a rectangle that measures 15 1/2" inches long and 1" high. You can adjust the length to better fit your head. I would say I have an average-size head, so this should work for anyone with an average-size head.
Take your circular object (I used the cover to a coffee thermos, but you can use whatever you want to make bigger or smaller curves...) and trace the edge of your object to create your curves on the top and bottom of your rectangle.
Trace the curves on the top first (or the bottom, if you so choose), and then draw a line down to the bottom where the curves meet. Then you can easily line up your circular object with those lines to make the top and bottom curves match.
When you've got everything all drawn out, you'll have something like this:
Yours may vary due to the size of whatever you are tracing.
Using this pattern, cut out your interfacing. Now take your curvy-shaped interfacing and iron it onto your sweater fabric. Once it's fused, cut it out, leaving at least 1/4" around the edge for your seam allowance.
Take your paper pattern again and cut the shape from your remaining piece of fabric, again leaving at least 1/4" for seam allowance.
Place your two fabrics right-sides together, and sandwich your ties in between them, leaving a little sticking out:
Yes, I drew on my interfacing.
To make sure I didn't sew my ties up into the seams, I rolled them into spirals and placed them right in the middle.
Now sew about 1/8" or less from the interfacing
almost
all of the way around. Leave some space (about 1" to 1 1/2") for so you can turn it right-side out.
Trim the excess so that the seam allowance is closer to 1/8".
Turn it right-side out. I used a wooden skewer to help push the fabric through.
Press the seams with an iron once it's all flipped. I like to pin the seams in place, too.
Hand sew the opening. I use a blind stitch- there's a great video tutorial at the end of this post. And a link to a video for threading a needle and knotting the thread for hand sewing, too. Very helpful.
Now top stitch. I wanted contrasting thread on each side, so I threaded the sewing machine with pink thread for the white sweater side, and used a bobbin with white thread for the pink side.
Once it's top stitched, add some buttons for detail (if you wanna), and it's finished!
Please excuse my TERRIBLE hair day. Bleh!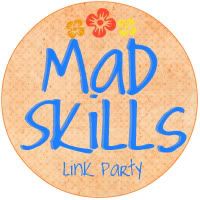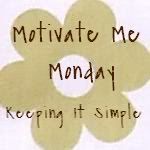 About Me
StepThruCrazy

My name is Sarah. I am a wife; the mother of three beautiful and crazy girls; a person of many interests, many that I am just finding out; and just generally me in every way.
View my complete profile

Blog Archive